What's up, G2G:Evolved community members? This is a quick overview of what's happened this week in the PlayStation world.
ARK Survival Evolved Dev Talks Early Access on PS4
On Twitter this week, one developer on
ARK Survival Evolved
, Jesse, answered some questions on the game, such as optimization of the Xbox One Early Access version, which barely runs at 30fps. There are aware of the issues and need some time to optimize the game.
One Twitter user, however, asked if we will see the game on PS4 in this pre-alpha version. Jesse said that it is up to Sony and our demand to have a early access program on PS4.
So people who think they need this in their lives, make some noise and try to start something. Else, we have to wait until the full release of the game when it's finally finished.
@AshleyGodber

That is up to Sony. Make sure to ask them for an early access program if you want ARK on PS4 - before it finally launches!

— Jesse (@arkjesse) January 20, 2016
[Source: GearNuke]
Street Fighter V Story Modes Revealed
Not only will you be able to play the Character Story Mode but there is also a free Cinematic Story Expansion coming to the new entry of the beloved fighting game franchise. The Cinematic Story Expansion will come in June this year. You will be taken back to the events between
Street Fighter III
and
IV
where you will be explained in the world of the Street Fighters. Watch the trailer below to get a glimpse of what you can expect.
[Source: PS Blog US]
Mighty No. 9 Delayed Yet Again
Wait... no seriously, you can wait even longer now. Mighty No. 9 has been delayed yet again and Keiji Inafune issued a statement on the whys.
"The reason for the delay is rooted in bugs inside the network modes, and specifically problems with matchmaking. There are two large reasons for this problem, one of them being the large number of platforms supported (the solution for each platform is slightly different) and the other stems from the fact that the engine we are using is no longer being updated which means adjustments for matchmaking and online code are being made manually (actually reprogramming parts of the engine by the dev team themselves)."
Whether fans of Keiji Inafune / Mega Man really wanted network usability or not is a whole other story. We hope that Keiji and his team can work these problems out and get the game to us as soon as possible.
[Source: Kickstarter]
MLB The Show 16 Vlogs: Road to the Show
The makers of
MLB The Show
at San Diego Studio started off a series of vlogs and Twitch streams that give you background info on their new baseball hit game
MLB The Show 16
. They will prepare you to know everything about the new features and Ramone Russell started the first vlog, which you can see below. He is explaining what is happening in the next weeks and introduced us to Matt Schafer, who shows off the Bowman Scout Day and the new Showtime feature.
[Source:
PS Blog US
]
One Piece Burning Blood Release Date Revealed
The straw hat is back and his companions to fight off villains and creatures again. Bandai Namco has revealed the release date of
One Piece Burning Blood
, launching June 3rd on PS4, PS Vita, and the Xbox One.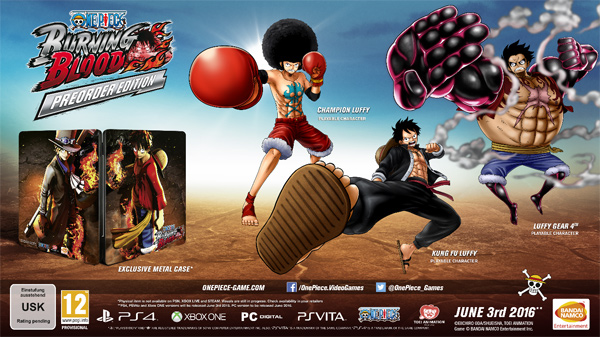 For hardcore fans of Luffy and co. that pre-order the game will get an exclusive metal case as well as "Champion Luffy (from Davy Back Fight arc), Luffy Gear 4th (With this character, players will be in Gear 4th during the whole fight), and Kung Fu Luffy (Drawing from Eiichiro Oda – Chapter 710 of the official manga) as playable characters!"
[Source: Bandai Namco Entertainment]
Kojima Arrived in Europe
Hideo Kojima's Sony studios world tour led him to Europe and London's Sony studios. He definitely looks really excited and seems to have fun. Welcome in Europe Kojima-san!
— HIDEO_KOJIMA (@HIDEO_KOJIMA_EN) January 24, 2016
Announcements
February 9th:
We Are Doomed
- PS Vita (Cross-Buy on PS4)
Naruto Shippuden: Ultimate Ninja Storm 4
- PS4
March 2016:
Organic Panic
- PS4
April 1st:
Nights of Azure
- PS4
Spring 2016:
Coffin Dodgers
- PS4
Blade Ballet
- PS4
May 2016:
Dangerous Golf
- PS4
Summer 2016:
Teenage Mutant Ninja Turtles: Mutants in Manhattan
- PS4, PS3
Song of the Deep
- PS4
2016:
Livelock
- PS4
Stikbold! A Dodgeball Adventure
- PS4
And like every week, the PlayStation Store got updated with a lot of new entries. See the
PlayStation Store Update for January 27th
.
This is it for this week's news, check back next Sunday for more about PlayStation. Also, check out all our other content here on G2G:Evolved.
JerriKoe - Game on!